Who We Are & How We Can Help You Be A Better Songwriter
Hello and thank you for visiting us. This is the home of I Heart Songwriting Club, one of the largest, global communities for songwriters. We're all about helping you write the songs of your dreams and create the success you want, while making life-long connections and having fun.
We've worked with thousands of songwriters from all over the world, all ages, all experience levels and all genres, to help them turn their song ideas into song successes and we're here to help you too.
No matter whether you're an award-winning, published songwriter, full time musician, hobby songwriter, or haven't yet written your first song – we've got you covered. We have so many resources to help you make the progress you want no matter what stage you're at on your songwriting journey.
Take a look around and discover our club, our members and the ways that we can help you. And we'd love for you to join our community.
We are proud to have worked with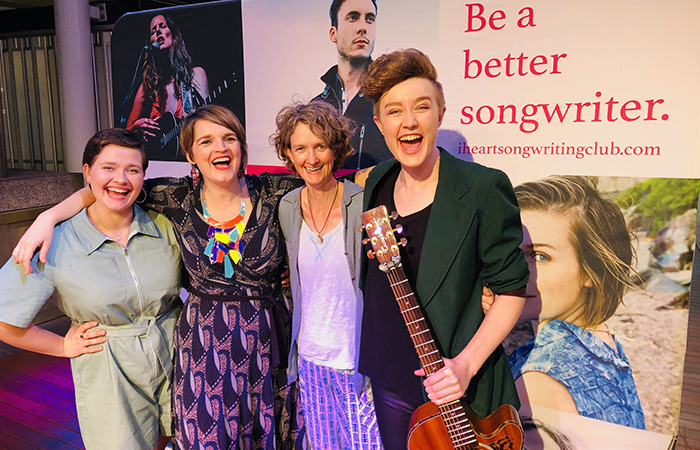 01
Join Us and Write Weekly
If you're looking for the support and accountability to write songs every week and receive helpful feedback on all your songs, no matter where you are in your songwriting journey, then join the Club.
The Club will transform your songwriting practice and give you amazing songs that you can use for your next project.
Ready to get started?
Are you…
Member Spotlight:
Edward Buckridge from Elbury
Elbury is a five-piece original alternative-folk act from Brisbane, with a repertoire that verges on rock with a singer-songwriter tinge.
Lead songwriter and frontman Edward Buckridge and keyboardist and vocalist Brooke Austen are both members of I Heart Songwriting Club. Buckridge plunders diverse literary sources for inspiration and finds unique perspectives on the quirks, puzzles and tragedies of life and the human experience.
Find out more about Elbury's new record 'A Life in Stages' which features nine of the tracks that were written in The Club!
I Heart Songwriting Club has transformed my approach to songwriting – I used to write slowly, and in complete isolation until a song was developed enough to share. Now, I can use each weekly task to quickly sketch out an idea, get some feedback and decide whether these ideas are worth putting more time into, and worth bringing to band rehearsals.
Edward Buckridge
As a touring musician, having time to write is often allocated to the end of a to do list. I Heart Songwriting Club has encouraged me to put the thing I love the most about my career back into a weekly priority. I am remembering the initial joy of writing a song for the pure joy of writing a song. 

Since joining I Heart Songwriting Club I've written countless more songs than I had in the previous 10 years of songwriting (Hello APRA royalties!). It encourages practise and with that practise it has brought more strength and diversity to my lyrical content. It's also a beautiful way of connecting and sharing with other writers that I wouldn't have otherwise met.

The members pictured in the top banner are Wild Eyed Wonder, Sam Buckingham, Tim Tainsh, Carla Thursday, Kin Yang, Gitika Partington, The Jazzueles, Donna Lynn Caskey, Tahnja Wolter, Saraima Navara, Paulina, Josh Crawford, Jeremy Sullivan, Mama Kin Spender, Elska, Arthur Holmes-Brown.